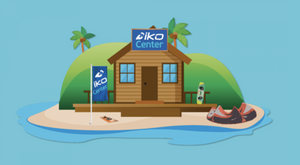 IKO Kitesurf Instructor Level 1 Training Course (ITC)
Become a Kitesurf specialist and boost your progression and turn your passion into a career
Please contact us for the next course date
Location: Dubai
Put the odds in your favor while reaching pure excellence in the teaching experience. This leading course is your best start to becoming a professional kite Instructor and living your dream. All pedagogical contents and exercises included in the course show you how to find the perfect balance of fun and safety while keeping in mind each kiteboarders' individuality. You must have completed your IKO Kitesurf Assistant Training Course (ATC) before starting this course. The course is 5 days, we give 1 extra day to allow for weather conditions.

Teach the highest international standards

Our elite trainers developed this course using time-tested teaching methods. The course is designed for you to become a proficient Instructor. The IKO Teaching Concept is based on a mix of trial and error with corresponding evaluation and correction. Key concepts about the learning curve, mental state, and principle of communication will have no secrets at the end of the course. Get support with our visual lesson plans and also learn from live practices with real kitesurfing beginners.
Increase your skills

Kiteboarding education is endless with concepts. Many of the skills learned in the course can be applied to other areas. Your ability to speak in public and present complex theoretical concepts will increase, as will your professionalism and organization capacity. The IKO offers you the possibility to continue your course and reach higher levels.
Enjoy the beach Adventure awaits you
Get experience at IKO Centers worldwide while working with IKO Instructors and assisting kitesurfers. As an IKO Level 1 Instructor, you're now in charge of making the area a safer place.

IKO ITC requirements for enrolment
Be at least 18 years old
Be a certified IKO Kitesurf Assistant (ATC)

Have a fully certified First Aid certification (less than 2 years old)

Have an IKO Account (free to register on www.ikointl.com)
Must be able to read, write and speak fluently in English which will be the language of the course
Sign the IKO Pro Waiver Form
What does the IKO ITC Fee include for the candidate?
One year's Professional and Recreational Liability Insurance
One year's Instructor Level 1 License
One year's Instructor Level 1 Membership 'Plus', including Shop discount, Job Ads and Member Deals
Full access to eLearning in multi-languages for the ITC manual, Kiteboarder eBooks, Teaching videos and eCourses
Kiting equipment for the duration of the course
PFD for the duration of the course

Helmet for the duration of the course

High vis waterwear
Drinking Water
For further information or if you would like to meet with our head instructor Simone to discuss in detail please contact him direct on +971 (0) 58 250 3873

The IKO Kitesurf Instructor Level 1 Training Course (ITC) is evocative, to say the least, but that's why you're drawn to it in the first place.

Inventory Last Updated: Oct 04, 2023