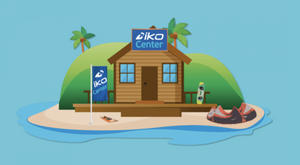 IKO Kitesurf Assistant Training Course (ATC)
Become a Kitesurf specialist and boost your progression and turn your passion into a career
Please contact us for the next course date

Location: Dubai
***You can not teach with this certification, this is the first step towards your Level 1 instructor certification***
The Assistant Training Course (ATC) is for independent kitesurfers who want to improve their riding or make a career out of kitesurfing. We will be running this course in Dubai at our Centre location. Learn the fundamentals of kitesurfing and turn your skills into primary teaching competencies. The ATC prepares you to work as an Assistant at IKO Centers around the world.
You can also take this course to improve your kitesurfing skills and become a stronger and more confident kiter. You must hold a Level 4 IKO licence and complete Module 1 before starting Module 2 of the ATC course.

Learn fundamentals

Our elite trainers developed this course using time-tested teaching methods. It includes Module 1 eLearning from the comfort of your home and Module 2 In-Person Training at our IKO Centre where you're provided with the latest riding, safety and teaching techniques.  To receive your certification you must also complete Module 2.

Start learning online (Module 1/2)

The first module is online where you'll learn the essential theoretical kitesurfing concepts to prepare you for in-person training at our IKO Centre in Dubai. Module 1 must be booked online through the IKO website, please follow this link and the price is US$160 payable direct to IKO.


Share a unique experience (Module 2/2)

The second module is in-person training with an Assistant Trainer who guides you through a progression of skills. The practical and classroom training takes place over 5 full days and includes hands-on learning and continual feedback sessions with other passionate kitesurfers. This will be done over 6 or 7 days depending on weather conditions and also including the First Aid course (1 day) for those that are required to do this.

Enjoy the beach Adventure awaits you
Get experience at IKO Centers worldwide while working with IKO Instructors and assisting kitesurfers. As an Assistant, you're now in charge of making the area a safer place.

IKO ATC requirements for enrolment
Be at least 16 years old
Be a certified IKO Kiteboarder Level 4 or ride at an equivalent level
Have an IKO Account (free to register on www.ikointl.com)
Must be able to read, write and speak fluently in English which will be the language of the course
Sign the IKO Pro Waiver Form
What does the IKO ATC Fee include for the candidate?
One year's Professional and Recreational Liability Insurance
One year's Assistant License
One year's Assistant Membership 'Plus', including Shop discount, Job Ads and Member Deals
Full access to eLearning in multi-languages for the ATC manual, Kiteboarder eBooks, Teaching videos and eCourses
Kiting equipment for the duration of the course
PFD for the duration of the course

Helmet for the duration of the course

High vis waterwear
Drinking Water
For further information or if you would like to meet with our head instructor Simone to discuss in detail please contact him direct on +971 (0) 58 250 3873

The IKO Kitesurf Assistant Training Course (ATC) destined to impress, and priced at only Dhs. 2,120.00, for a limited time.

Inventory Last Updated: Oct 04, 2023