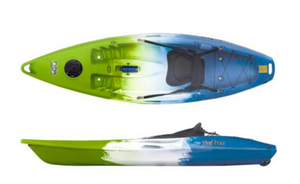 FeelFree Move Kayak
FeelFree Move Kayak (Kids) - Recreational
It doesn't take long to notice what sets Feelfree apart - with dynamic color combinations and unique hull designs to innovative functions and features, Feelfree is consistently redefining the future of paddle sports. 
 
The FeelFree Move was designed with smaller paddlers in mind including smaller adults as well as children. This kayak has lots of nice features which include bow and stern handles, side handles, bow hatch, rear tank well, drain plug and wheel in the keel.

This kayak has a 'Wheel In The Keel' that makes moving the kayak to and from the water so much easier. 
 
FeelFree Move Kayak
STABILITY
When you first step onto the deck of a Feelfree Kayak and sit down, you'll immediately notice the Feelfree difference. Whether you sit, stand up or lean over you'll have peace of mind so you can focus on fishing and having fun.
PORTABILITY
Even the lightest kayaks are a challenge to port around. They're awkward due to their length and the simple task of loading and unloading it can be a daunting task. Feelfree made it easier. Each kayak comes with a Patented Wheel in the Keel so you don't have to carry or drag your kayak. 
 
SELECTION 
 
Feelfree's goal is to enhance your adventurous outdoor experience, making it the best it can be - rest assured, it will be!
FeelFree Move Kayak
Imagine if you could be satisfied and content with your purchase. That can very much be your reality with the FeelFree Move Kayak for Kids.

Inventory Last Updated: Dec 07, 2023