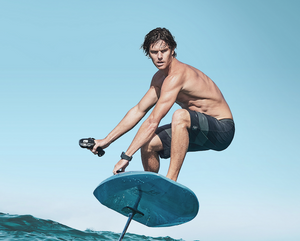 E-foiling Lessons at JA The Resort
Try out this new and exciting activity under the expert guidance of our instructors. Enjoy a 30 minute lesson alone or you can share our 1 & 2 hour packages for up to 3 people.

The Fliteboard e-foil gives the sensation of flying over water. Fliteboard carves like a snowboard in fresh powder, but with the freedom to ride anywhere, anytime, without wind or waves. It's fast, quiet, and emission free.
Learn to ride the motorised foil and enjoy the bay and beach from a different perspective. We use only the best equipment and our Fliteboard foils are easy to get up and ride on.
Our official Flite School will offer private lesson to learn how to ride a Fliteboard in a fun, supportive environment. Most of our clients are able to fly after the first 45 minutes!

This really is the coolest and ultimate watersports experience! All bookings through Blue Ocean Sports give you access to the hotel grounds and facilities.

Please note that we can only allow clients to rent and ride alone after they have had 2 hours of supervised sessions.
Hotel Guest Entry Pass

Why not bring a guest or your Family along to enjoy your experience and make a day of it at our centre or at the hotel beach club. Our exclusive guest price of AED100 per additional guest gives you access to the pools, beaches and associated facilities within the hotel grounds. Pre-bookings must be made or the full fee of AED350 per person will be charged at the entrance
All prices include 5% VAT and 7% Municipality Tax
The E-foiling Lessons at JA The Resort is far and away, one of our most popular items. People can't seem to get enough of it.

Inventory Last Updated: Dec 07, 2023