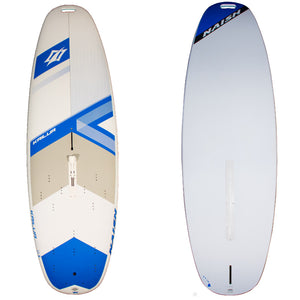 Kailua
Size : 140
Entry Level Windsurf Board
The Kailua is the ideal board for novice to intermediate sailors of all weights and sizes looking for unmatched stability whilst advancing from  the basics of windsurfing in both planing and non-planing conditions. 
The Kailua's rocker line amplifies early planing and makes jibing extremely easy for beginner windsurfers. With an easy-to-pair, non-skid deck, this board is the perfect entry-level option for schools and rental centers. 
View the Board Comparison HERE.
Kailua
Size : 140
Entry Level Windsurf Board
KEY FEATURES:
Reinforced Nose = Impact protection
Non-skid Deck = Maximum traction
Rocker Line = Progress to planing + stability + jibing with ease
Power Box = Ultra strong + perfect fin position
Accessories
Kailua PB 32 + Daggerboard
Vario Ergonomic Footstraps
Windsurf Board
The Naish 2018 Kailua Windsurf Board is the yin, to your yang. You've found what you're looking for.

Inventory Last Updated: Oct 05, 2023