Wing foil Lessons

Introduction to WingFoiling course
Wingsurfing or wingfoiling, is a new water sport that is drawing in countless windsurfers, kiters, standup paddle boarders, foilers and even non watersports enthusiasts that are looking for something different to do on the water.
The sport is accessible to more or less anyone. In this course, we will get you to the level where you will be competent enough to ride and develop your skills further by yourself either on a SUP or on a hydrofoil.
In this first part of the course, using an SUP and wing, we will teach you the following skills:
Introduction to the SUP and wing and safety aspects

How to hold the wing
Understand the wind and manage the wing
Starting on the SUP board
Standing on the SUP board
Staying upwind on the SUP

Cruising around
Introduction to the hydrofoil and wing and safety aspects
Managing the equipment from beach to the water

Starting on the foil board
Standing on the foil board
Staying upwind on the foil board

Cruising around
How to get lift from the foil
** This will be done in 2 x 2.5 hour lessons
Advanced WingFoiling Course
In the 2nd part of the course, we will take you to the next level. Using all the skills you have learned in the introduction, we will spend more time on the water with you to get you up and riding competently.

** This will be done in 2 x 2.5 hour lessons
*Please note, all of us learn at different speeds. It is not guaranteed that you will be up and riding the foil buy the end of the course. But, you will be able to competently practice alone oand we are always on hand to give advice when you are out on the water. Additional hourly tuition is also available
**Classes are for up to 3 students at a time. Private one one lessons are available and an additional  fee of AED35 per hour will be chargeable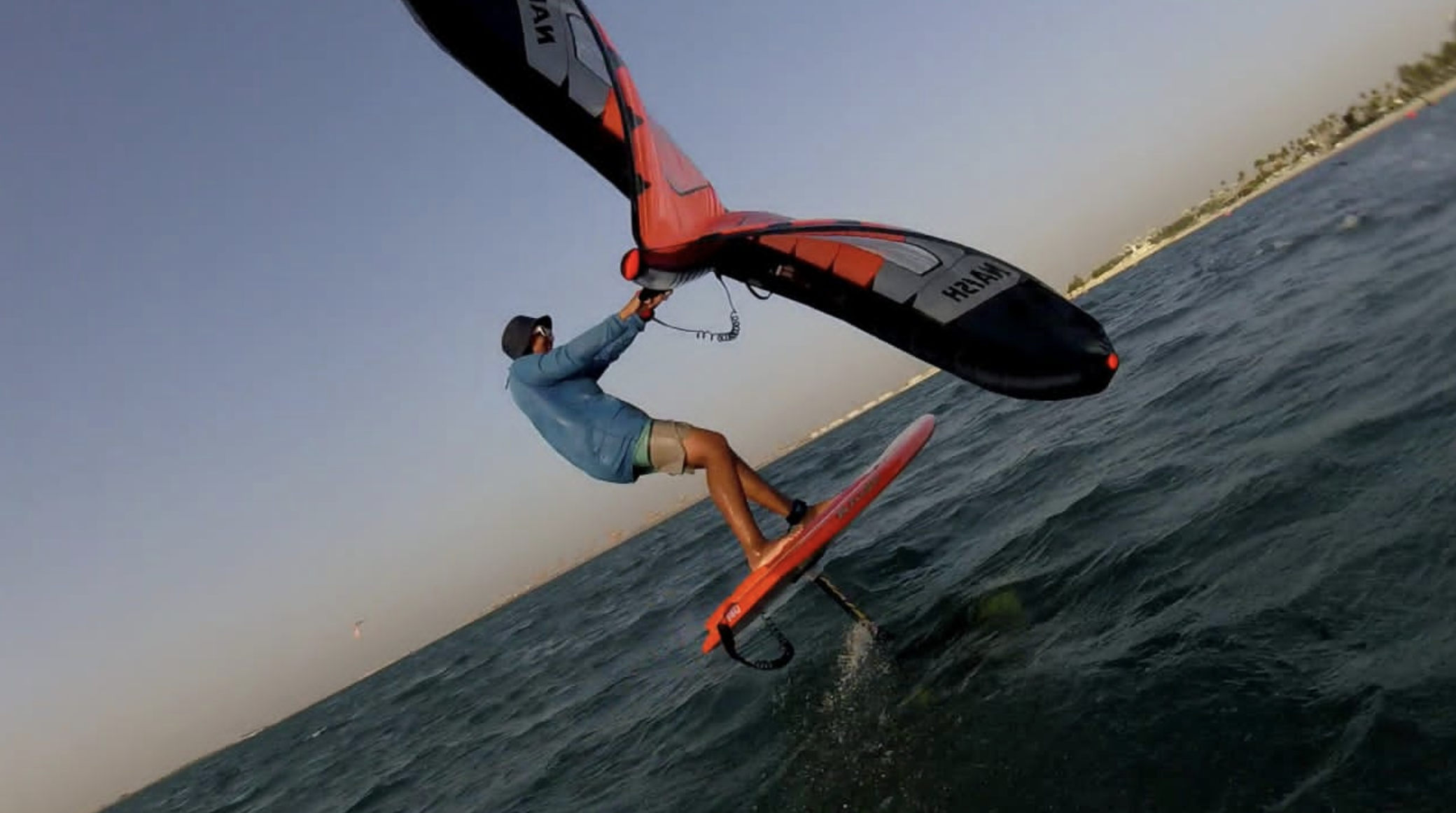 Why Learn to wingsurf with Us?
We are powered by Naish, a premium brand and all equipment has less than 100 hours of use
All instructors are Internationally Certified and registered with Dubai Sports Council
 
We adhere to IKO standards as highest level toward safety approach
We guarantee to teach only when there is acceptable condition - every hour of your tuition matters to us and we know you will only advance when the conditions are right
Wingsurfing can be a dangerous sport if not learnt and taught correctly
Included Services

All equipment
Certified RYA or IKO instructor
First Aid qualified instructor
Lifejacket
Helmet

Bring along

Swimwear & towel
Hat
Suncream
Water
Snacks


Requirements

Minimum age: 10 years old
Minimum weight: 25kg
Physical health
Swimming ability
 
*Lessons will have up to 3 students per session maximum
**1 lesson = 2 to 3 hours
***A fee of AED35 per hour will be charged for private/individual lessons
Wing foil Lessons
The Wingfoil Lessons was built with people like you in mind. Something to keep you happy. Every. Single. Day.

Inventory Last Updated: Sep 18, 2021