Windsurfing Taster Lesson 
An exhilarating sport that is popular for so many people. For those aged 10+, this is a great session to learn the basics and get the windsurfing bug.
By the end of the session you should be standing on your board and sailing in the shallow water, turning and steering as you go.
Almost straight into the water, our qualified instructors will teach you the basic techniques to get going.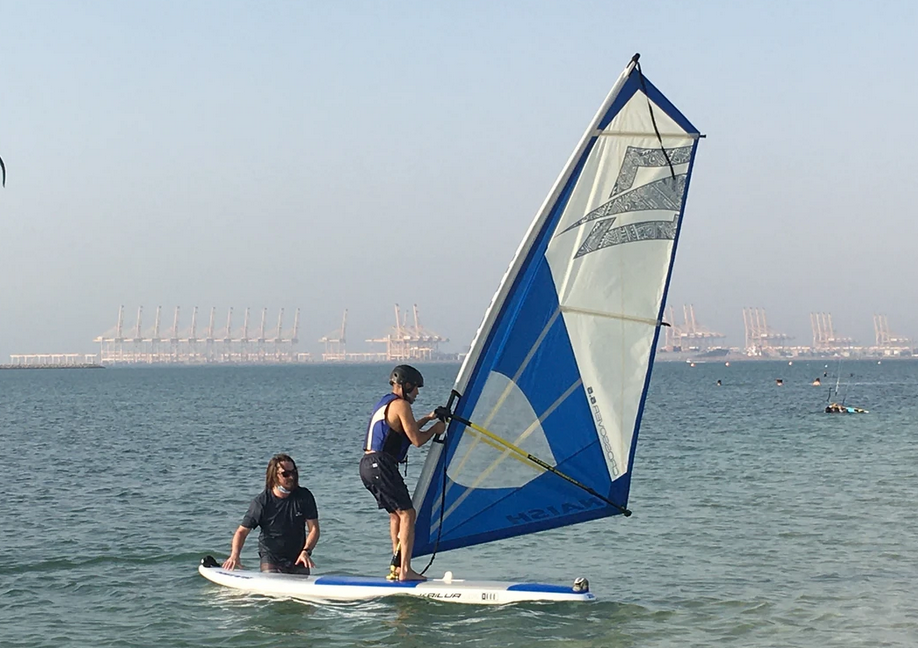 Meeting & Preparation
We meet at our preferred beach where the water is flat, you will get to know your instructor and receive a brief about the general rules during your course and from there we will go straight to water to start the lesson.
 
Windsurfing Taster Lesson 

Course Content
- Equipment names
- Understand the wind
- Standing position
- Steering
- Sailing

Included Services
- Full windsurf equipment
- Helmet
- Lifejacket
- British Certified windsurf instructor

Bring along
- Swimwear & towel
- Hat
- Suncream
- Water
- Snacks

Requirements
- Minimum age: 8 years old
- Minimum weight: 30kg
- Physical health
- Swimming ability
 
Windsurfing Taster Lesson 
Lessons will have up to 3 students per session maximum
1 lesson = 2 hours
A fee of AED35 per hour will be charged for private lessons
The Windsurfing Taster Lesson (2.5 hours) was built with people like you in mind. Something to keep you happy. Every. Single. Day.

Inventory Last Updated: Oct 04, 2023