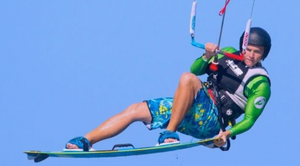 IKO Level 4 - Kiteboarder Advanced Course
Reach new possibilities
You are ready to become more advanced and ready to learn more about the art of kiteboarding. Learn to master riding in all directions as well as basic jumping techniques. Learn how to help your friends with board recovery! Your IKO instructor will show various techniques like how to jump with grab, jibe and how to rescue another rider and his board. Theoretical topics will include how to better assess your riding location, kiteboarding safety and more about how to tune your kite. You must hold and IKO Level 3 licence to start this course.

Once all skills are demonstrated and completed to the expected level we will certify and upgrade your IKO licence to Level 4. This is the minimum requirement for the IKO Assistant Instructor Course.
The practical and test part of course is normally 3 hours long and can normally be completed in 1 session. You will be required to study and practice before your session. We will need to evaluate you before booking so we can advise how many hours you will need to book for the practical and test.

 Please see below list of skills that we will teach and test you on:

Achieved Skills and certification levels

Level 4U
International kiteboarding signs
On the fence about this IKO Level 4 - Kiteboarder Advanced Course? Don't be. Let our satisfaction guarantee address your concerns.

Inventory Last Updated: Oct 05, 2023