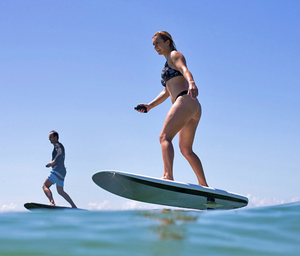 E-foiling rental at JA The Resort
Now that you are an experienced pilot, feel free to explore on your own or with another experienced pilot. Enjoy a 30 minute session alone or you can share our 1 & 2 hour packages for up to 3 people.

The Fliteboard e-foil gives the sensation of flying over water. Fliteboard carves like a snowboard in fresh powder, but with the freedom to ride anywhere, anytime, without wind or waves. It's fast, quiet, and emission free.
This really is the coolest and ultimate watersports experience! All bookings through Blue Ocean Sports give you access to the hotel grounds and facilities.

Please note that we can only allow clients to rent and ride alone after they have had 2 hours of supervised sessions.
Hotel Guest Entry Pass

Why not bring a guest or your Family along to enjoy your experience and make a day of it at our centre or at the hotel beach club. Our exclusive guest price of AED100 per additional guest gives you access to the pools, beaches and associated facilities within the hotel grounds. Pre-bookings must be made or the full fee of AED250 per person will be charged at the entrance
All prices include 5% VAT and 7% Municipality Tax
Life is too short to live without the E-foiling Rental at JA The Resort. Be happy. Be Content. Be Satisfied.

Inventory Last Updated: Dec 07, 2023